SHOPPING
There's nothing quite like a trip to beautiful Orcas Island, and nothing makes it more memorable than a homemade souvenir or piece of local island art to take with you.  Find all the curiosity shops and retail stores providing books, art, and locally made collectibles of every kind from Orcas Island and across the San Juan Islands in the shopping center of Eastsound.
For all the information you need to plan a first-rate visit to Orcas Island, check out the comprehensive Orcas Island Business directory at OrcasIsland.org!
Orcas Island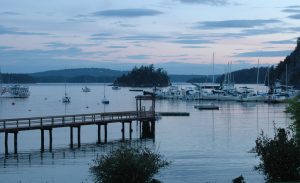 Your personal guide to beautiful Deer Harbor on Orcas Island.
Deer Harbor, Orcas Island
Our goal of providing fresh, pesticide-free, locally grown produce to residents of Orcas Island is consistantly attained with ingenuity, commitment, energy, patience and hard work. We currently have four acres of organic produce, berries and fruit under cultivation. Please call to special order or see us at the Orcas Island Farmer's Market.
Call 360-622-6433 - Orcas Island
We brew great quality beers using only the best ingredients. We love what we do and want to share with you a little bit of our passion for beer. Our brewery is located on beautiful Orcas Island, which serves not only as our home, but as an inspiration to our brewing mentality. Join us at the brewery to try a rotating selection of our beers in a comfortable adjoining tasting room.
Call 360-376-6079 - Eastsound, Orcas Island
If you live on the island, or are a visitor to paradise here, come by for a full line of healthy, natural foods and treats for dogs and cats, toys to amuse and exercise your pets (and yourself!), items for pet care and grooming, travel supplies and a wide variety of accessories and gifts. Our shop is in Eastsound, east of the Outlook Inn.
Call 360-376-3648 - Eastsound, Orcas Island
Orcas Outfitters
Orcas Outfitters offers outdoor clothing, footwear and gear for sports, travel, work, hunting, camping and fishing. feature brands such as The North Face, Mountain Hardware, Columbia, Prana, Merrell, Keen, Bogs, Carhartt, Red Wing, Levi's, and many more..
Call 360-376-9327 - Eastsound, Orcas Island
Don't miss this unique island online shop! A variety of Orcas Island artists includes pottery, madrona wood bowls, jewelry, and culinary delights. The shoe collection hosts Teva, Chaco, Ugg, Birkenstock, Dansko, Haflinger, Merrell, and more. We closed the doors to the Wood's Cove storefront on Orcas Island, but did not close the business. To be sure, all of the favorites will be available on our site. You can also just pick up the phone and call. To Orcas residents and long time customers, I now deliver on Orcas Island.
Call 360-317-8307 - Orcas Island
Located on beautiful Orcas Island in the San Juan Islands for over 30 years. Enjoy a classic, independent bookstore with a friendly and knowledgeable staff. Darvill's Coffee Bar is open every day! Serving Batdorf & Bronson's finest, one cup at a time.
Call 360-376-2135 - Eastsound, Orcas Island
Olga's is a boutique featuring women's wear, lovely jewelry, fabulous things for your house, and organic kids clothing. Our shop is nestled in the heart of Eastsound, WA on the pristine Orcas Island. Owned by Brittany Grumm, Olga's aims to please tourists and locals alike. Stop in to buy something during your vacation or to add to your collection on Orcas Island. The shop proudly features luxurious clothing that will suit women of any age and one of a kind gifts for everyone.
Call 360-376-5863
Roasted Coffee, spices, jams and jellies, and many other assorted locally grown goods from all over the San Juan Islands.
Call 360-376-4546
Kay's Antiques and Collectibles
Ever-changing array of great finds, antiques, collectibles, gifts, jewelry, Orientalia, Persian rugs, accent accessories, glassware and treasures of the heart.
Call 360-376-4538.
Ray's Pharmacy
Serving Orcas Island for almost 40 years, Ray's Pharmacy is a locally owned, independent pharmacy/general store providing all your shopping needs from cards to toys, specialty wines and beer and photo developments
Call 360-376-2230
Since 1996 Island Thyme has been handcrafting soaps, creams, balms and herbal oils here on Orcas Island. Our products incorporate essential oils, wildcrafted herbs, botanical extracts and natural emollients like Shea butter and Jojoba oil. From our artisan soaps, to our analgesic balms, to our aromatic massage oils and skin creams we are passionate about all of the products that we create.
Call 800-658-8510